We will always share news of a Walk-Talk Tour. Join our email list to stay informed of this and other events at Las Casas de la Selva.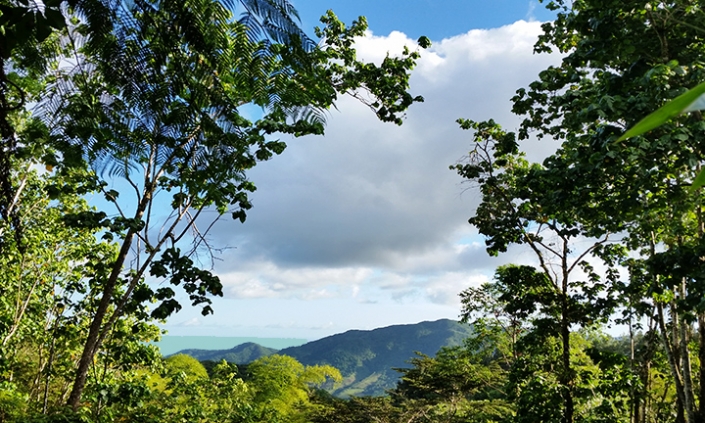 WALK-TALK-TOUR -This tour will be in English.
9.30am-2.00pm, Sunday 31st January, 2016.
Cost: $20.00 per head includes lunch. (Children under 10 years free.)
Where: In the homestead, forest, and woodshop facilities of Sustainable Forestry Project,
Las Casas de la Selva, Patillas, Puerto Rico. Disabled facilities very limited.
Clothing: Please wear suitable shoes or boots for a forest walk. Open-toed sandals, or flip flops are not suitable at all on uneven paths and potentially muddy trails. Wear long trousers and a long-sleeved shirt. We reserve the right to refuse entry to the forest to anyone unsuitably dressed.
Schedule:
9.30am: Coffee and Cake, orientation
Digital presentation of the history of Las Casas de la Selva and ongoing work, and introduction to Puerto Rico Hardwoods.
11.00am: Guided Forest walk to see plantations, identify trees, understand the history of land-use, & current projects, including planting of endangered tree species.
12.30pm: Gourmet lunch with organic salad, fruit juices, tea and coffee.
1.00pm: Tour of the wood workshop, drying sheds, & projects in progress.
An opportunity to buy or order wood, or beautiful hardwood products seen at our homestead.
2.00pm: Group Photo and Finish.
BOOK NOW:
Please send an email with the following info to 3t at: wanderwoman3t@gmail.com
• How many people?
• Dietary restrictions (meat/veg) or allergies if any.
Please ask for directions if needed.
See you here! 3t and Andres
Some of the products that will be available.