Dear Friends,
Welcome to our new website! This year, we are celebrating the 30th Anniversary of Las Casas de la Selva, and hope that near and far, folks will be in touch and revisit to celebrate with us. We are planning a BIG Party, so stay in touch! Get comfy, get a cup of tea or coffee and settle in to catch up with the latest news at Las Casas de la Selva!…
To make it even easier to stay in touch there is a comments section down below.

MOST OF THE PICTURES YOU WILL SEE IN THE NEWSLETTER ARE OF PEOPLE. PEOPLE STANDING AROUND TOGETHER AND MOSTLY SMILING.TO FIND OUT WHAT GOES ON BETWEEN STANDINGS AROUND AND SMILING, YOU SHOULD COME, VOLUNTEER AND EXPERIENCE WHATEVER IT IS!

GROUPS AT LAS CASAS DE LA SELVA
Always a busy time at Las Casas de la Selva, this February and March 2013, we received five Alternative Spring Break groups from all over the USA. Each group stayed between 7-10 days and we were rewarded with the presence of many wonderful university students all looking to provide service as well as have a life-changing experience. Most groups experienced the heavy rains of this region, but none-the-less, hard labor was the order of the day with never a dull moment. Thank you all for helping us to continue to upgrade this project.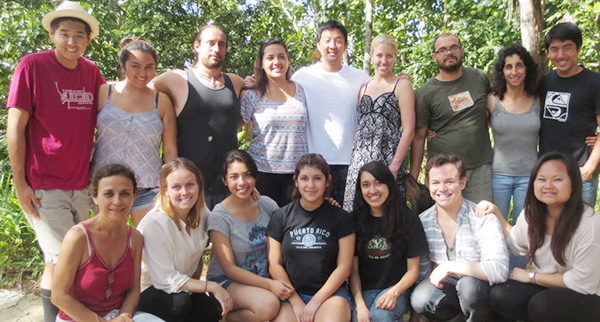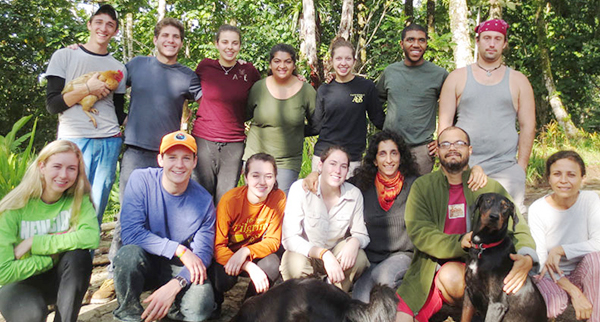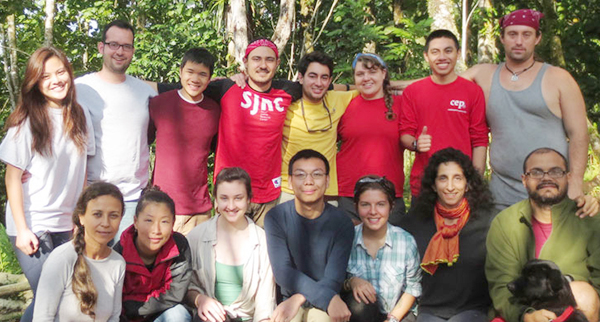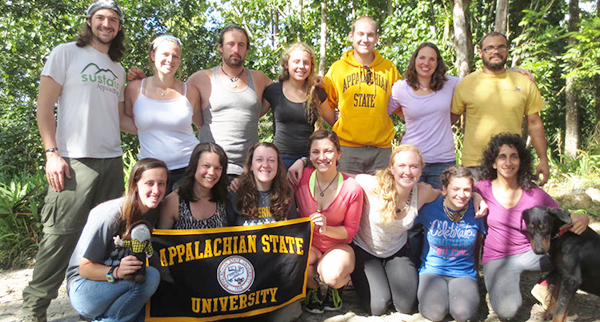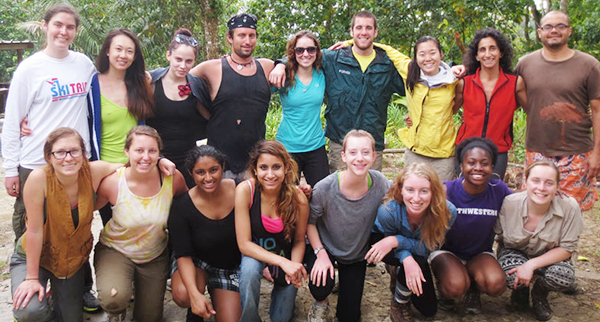 OTHER GROUPS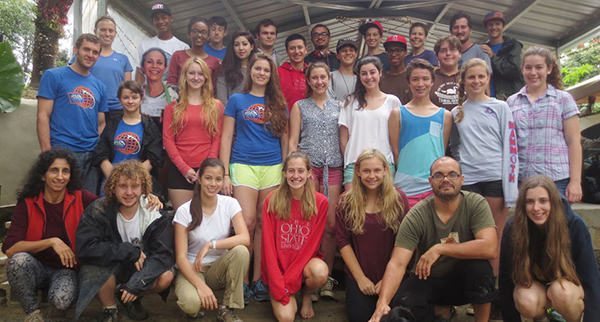 For 23 years Globalworks has been providing exceptional Community Service, Cultural Exchange, Adventure Travel, and Language Immersion programs for teenagers all over the world. One of their stops whilst on a Puerto Rico adventure is to stay at Las Casas de la Selva for a few days, immerse themselves in an alternative lifestyle, carry out intensive hard labor, whilst bonding with each other and getting to know the crew at Las Casas. This year the team worked on making a cement path to the bunkhouses, which will be really appreciated by everyone in the rainy season! Thank you to Meghan Sullivan and Jesse Woodworth for their superb facilitation of this great bunch of teens.
FALL IN LOVE WITH THE FOREST!
Headstart groups from Cacao Alto and Esmeralda Ambar, Patillas joined us for our trips designed for 4-8 year olds. After a fun digital presentation in El Teatro, and a show-and-tell of some frogs and lizards caught and released around the homestead, we take to the forest, and tell stories of the land, stories about trees and forests, tree-planting and cutting, and a detailed look at all kinds of flora and fauna. Then arriving back at the homestead we peek into the woodshop where we show our wood stock and some products. A packed lunch eaten outside, if no rain, finishes up the morning; a morning of fun, and, we hope, the start of a lifelong love of the green!
THE FOREST PRODUCTS ASSESSMENT PROJECT
This project initiated by Tropic Ventures Research & Education Foundation, led by Andrés Rua, and the Departamento de Recursos Naturales y Ambientales (DRNA), has made great progress with several key events in 2012 to highlight the current situation of forest product use and potential in Puerto Rico. 18th April 2013, saw a well-attended conference at the International Institute of Tropical Forestry attended by key players in the DRNA , the USDA, University of PR, and IITF. The group formally became CADA (Consejo Asesor para el Desarrollo Agro-Forestal) at the meeting at Cayey University on 6th May 2013. See more about this project at www.nuestramadera.org
Back row: Andrés Rua (TVREF), Enrique Santiago Irrizary (DRNA), Augusto Carvajal (UPR Cayey), Mark Schofield (former editor of Fine Woodworking Magazine), Gerardo Hernandez (Management Official for Toro Negro State Forest), Franklin Roman (UPR Agriculture Extension Officer and Agronomist), 3t Vakil (TVREF)
Front: Jimena Forero Montanez (UPR Phd student), Christina Cabrera (Special Assistant to the Secretary, DRNA), Rosamaria Quiles (DRNA)
THE SPECTACULAR WOODS OF PUERTO RICO!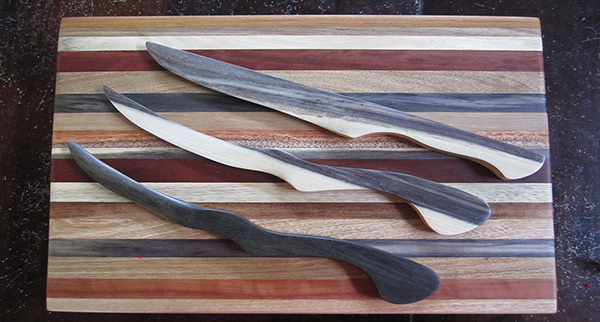 See more about our timber for sale.
HUMANURE COMPOST TOILETS
Designed and built by 3t and Andrés in February 2013, just in time to catch all the resources of the groups mentioned above.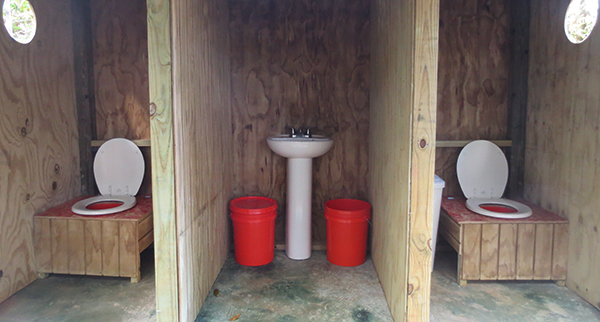 "The world is divided into two categories of people: those who defecate in drinking water and those who don't. We in the western world are in the former class. We defecate in water, usually purified drinking water. After polluting the water with our body's excrements, we flush the once pure but now polluted water "away," meaning we probably don't know where it goes, nor do we care. This ritual of defecating in water may be useful for maintaining a good standing within western culture. If you don't deposit your feces into a bowl of drinking water on a regular basis, you may be considered a miscreant of sorts, perhaps uncivilized or dirty or poverty stricken. You may be seen as a non-conformist or a radical. Some would argue that a simple system of humanure composting can also be the most advanced system known to humanity. It may be considered the most advanced because it works very well while consuming little, if any, non-renewable resources, producing no pollution, and actually creating a resource vital to life". SOIL.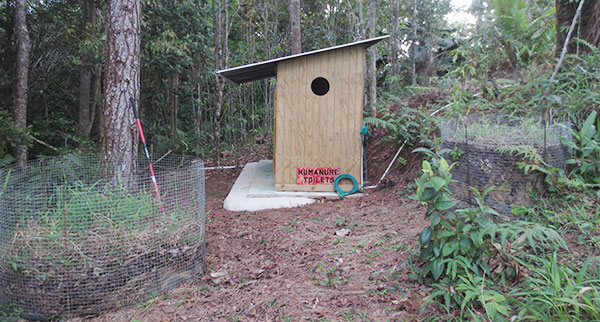 Thank you everyone who made the effort to overcome fecaphobic tendencies, to see that this is a really wise and sustainable way to collect and use all our resources, especially in the rainforest where we need soil for food production. 3t has been very successfully composting humanure for nearly nine years. Thanks to Reka Komaromi and Klaus Eiberle and great salutes for inspiration to Mark Nelson, and Joseph Jenkins for the quote above. (See his book)
NEW WOOD-DRYING SHED
NORMAN ON SABBATICAL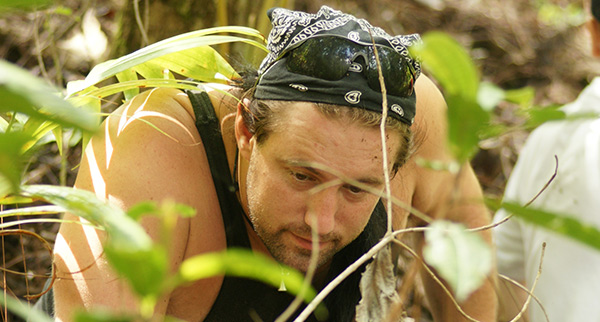 Norman Greenhawk was honored by Earthwatch with a Neville Schulman Award. The award is given for the training of emerging environmental leaders. For the award, Norman submitted a proposal: "Herpetological Conservation in the Neo-Tropics: An Interdisciplinary Approach", and he is currently two and a half months into his seven month sabbatical. He has spent a month at La MICA Biological Field Station in El Cope, Panama. He has worked with Dr. Julie Ray, a specialist of Panamanian snakes and has also interviewed citizens of the rural barrio of Barrigon about their attitudes and beliefs about snakes. His time in Panama will end with a stint at the Panamanian Amphibian Rescue and Conservation Project (PARC), which partners with the Smithsonian Tropical Research Institute. PARC is a captive breeding program dedicated to preserving genetically diverse populations of Atelopus frogs, a genus of frogs that are highly susceptible to the Chytrid fungus, a disease currently wiping out populations of amphibians all over the world. While working at PARC, he is continuing his interviews of local and indigenous peoples, focusing on beliefs about reptiles and amphibians in general, as well as perceptions about conservation organizations. We wish the best for Norman on his intrepid explorations! More…
PEOPLE AT LAS CASAS DE LA SELVA, FEBRUARY – JUNE 2013
Above left: Marta Edgar started a Bird Survey with Earthwatch volunteers this June. Alyssa Solis, who first landed at Las Casas on an Earthwatch teen expedition in 2008, has been back several times since and was an invaluable help on the Bird study, as well as helping 3t with Las Casas logistics and team management of the two Earthwatch groups in June 2013. Thank you Ladies!
PRESS AND MEDIA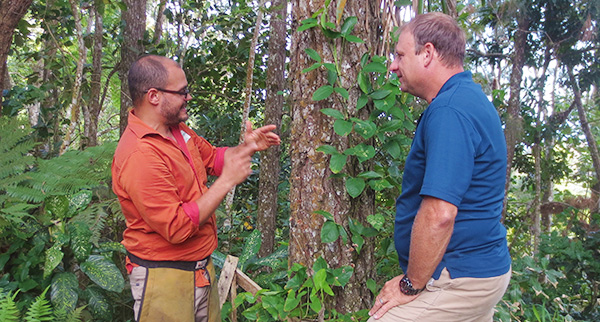 EARTHWATCH TEAM 1 JUNE 8-16TH 2013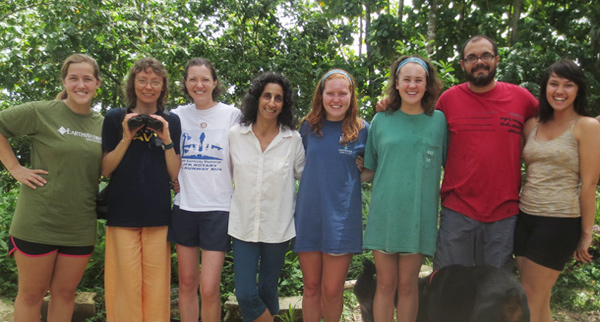 This wonderful all-ladies team above started our Earthwatch season in June 2013, and we really appreciated their enthusiasm especially in such a rainy time, and with early pre-sunrise starts. We are happy to announce the launch of a bird survey at Las Casas de la Selva with ornithologist, Marta Edgar. The ladies also partook in the planting and monitoring of critically endangered endemic trees with 3t. Below, our most exceptional teen team of Earthwatch volunteers, who completed several days out in the forest in very wet conditions and not a complaint! We really appreciated the work carried out on bird and tree studies and also the fun back at the homestead. Special thanks to Jackie Pomposelli and Amy Reggio, Earthwatch facilitators who did a superb job of holding it all together!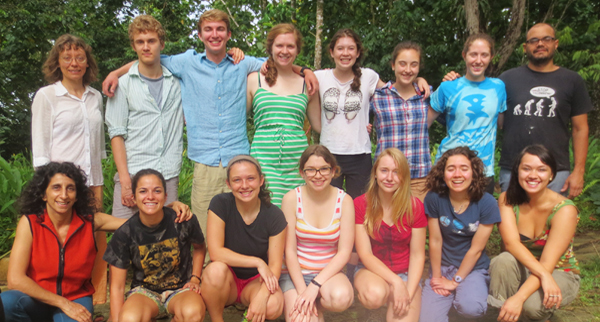 THANKS FOR SHARING IN OUR NEWS AND THE NEW WEBSITE.
THANKS FOR BEING PART OF THE NEWS!
BIG TREE HUGS TO ALL OUR FRIENDS AROUND THE PLANET. LEAVE A COMMENT, SHARE, COME VISIT!
(Newsletter editor: 3t)