| | | | | | | |
| --- | --- | --- | --- | --- | --- | --- |
| Mahoe | Length | Width | Thickness | Board feet | Cost | Notes |
| M | 68 | 10 | 1 | 4.72 | $94.40 | SOLD |
| N | 73 | 9 | 1 | 4.56 | $91.20 | SOLD |
| O | 84 | 11 | 1 | 6.41 | $128.20 | SOLD |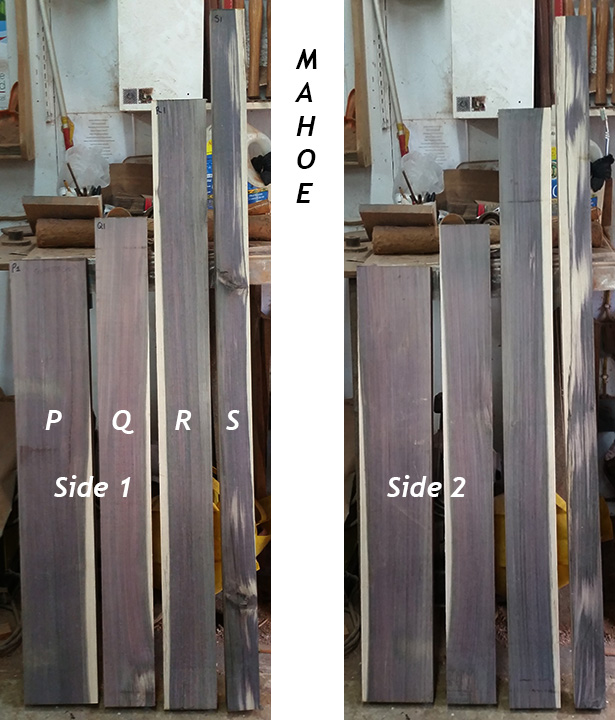 | | | | | | | | |
| --- | --- | --- | --- | --- | --- | --- | --- |
| Mahoe | Length | Width | Thickness | Board feet | Cost | Notes | Notes |
| P | 42 | 7 | 3.25 | 6.63 | $172.38 | Quartersawn | SOLD |
| Q | 46 | 4.75 | 3 | 4.55 | $118.30 | Quartersawn | |
| R | 57 | 5 | 2 | 3.95 | $102.70 | Quartersawn | SOLD |
| S | 65 | 3 | 2 | 2.70 | $54.00 | | SOLD |
Mahoe, Hibiscus elatus
All dimensions are in inches and all slabs are slightly larger than stated. All pieces have been planed on both sides. Ends are Anchor-sealed.
Shipping is not included, send an email for a quote.
Please include in your email to 3t@eyeontherainforest.org
1) Your shipping address.
2) Your shipping preference for a quote: USPS Priority (4-6 days) or USPS Retail Ground (14-18 days) .
We accept secure payments through Paypal.
Mahoe, Hibiscus elatus, is a large forest tree endemic to Jamaica, Cuba, and now naturalized in Puerto Rico. The straight stems of mature specimens can rise to a height of 80 feet, with trunk diameters of 12 to 18 inches, on favorable sites attaining diameters of 36 inches. Its relatively fast growth makes mahoe a highly suitable candidate for sustainable forestry management. The leaves are long-stalked heart-shaped, flowers are large and funnel shaped, usually red, but occasionally yellow or orange.
Mahoe is a moderately hard wood with a specific gravity of 0.58-0.62. The heartwood is very durable, highly resistant to attack by decay fungus, and resistant to subterranean termites. The fairly straight grain is richly variegated with shades of steely blues, metal grays, deep purples and pinks, olive greens and yellows, creams and browns, along with an elegant chatoyance in the wood. The narrow sapwood is pale white and subtly flecked, creating an attractive contrast with the heartwood. From reports and our own experience, the timber is generally easy to saw, plane, route, mould, mortise, carve, glue, nail, screw, sand, and turn, with a natural gloss in the wood when finished. It responds very well to both hand and machine tools in all woodworking operations. The wood has a musical quality and has been traditionally used in the making of cuatros, (puertorican guitars). Fine boxes, furnitures, inlay works, floors, details, turned pieces, exquisite jewelleries, sculptures, and ancient board games, have been, and demand to be transformed from the Mahoe. Architects, furniture-makers, designers, artists & wood lovers will find a charm in working with this wood.