Las Casas de la Selva receives the prestigious 2017 Energy Globe National Award for Puerto Rico in recognition for it's sustainable forestry program testing the efficacy of line-planting enrichment in the wet tropical forest to achieve both economic return and protection of natural biological resources.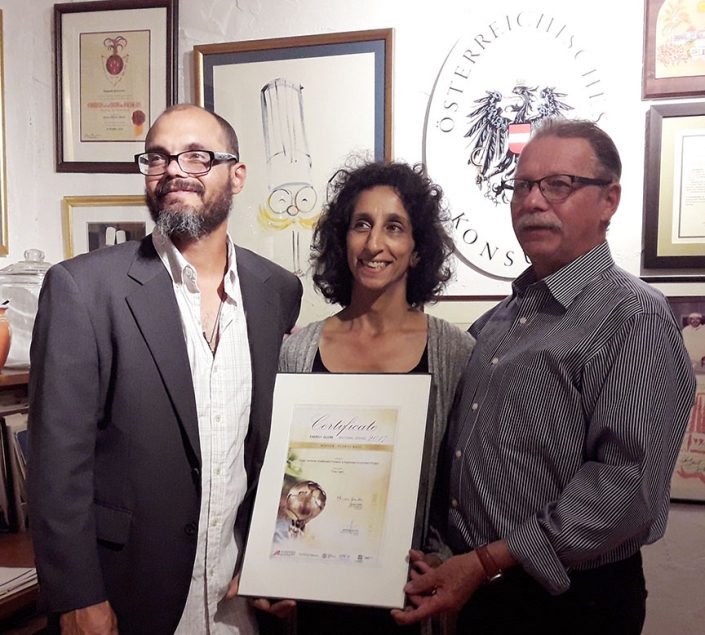 Puerto Rico National Award Ceremony held on the 18th December, where The Honorary Consul of Austria, August Schreiner, presented the certificate. Thanks to all our friends who came to share in this special event. Onwards to Tehran in the New Year for the Global award ceremony!
Las Casas de la Selva project was initiated in 1983 by the Institute of Ecotechnics (IE), an international non-profit organization pioneering innovative, healthy land-use in rainforest, grassland, desert, city and ocean coral reef biomes. IE was also key participant in the design and construction of Biosphere 2, the world's largest laboratory for the study global ecology ever built. Tropic Ventures, LLC, manages the 1000 acre project in Puerto Rico, developing a unique approach to enrichment of secondary rainforests called "line-planting", planting valuable tree species in cleared lines or blocks to simulate forest openings when tall trees fall within current forest vegetation. This offers critical soil erosion protection, preserves biodiversity, and facilitates forest development.
"Their work exemplifies our search for new approaches that can meet human economic needs while not only preserving but upgrading the local ecology. This is especially important in Puerto Rico, which a century ago had lost almost all its original forest but now has the fastest re-growth of secondary forest of any country in the world. The project has also demonstrated the value of rescuing old urban trees currently being cut down and literally sent to landfills."
Energy Globe Awards Committee
The project has helped catalyze Puerto Rico's governmental, university, and popular appreciation of the value of their native forest. Developing techniques that produce sustainable timber in the critical biome of the world's rainforests is essential to maintain its amazingly rich biodiversity. It demonstrates there are viable alternatives to clear-cutting and short-term exploitation of the rainforest. Puerto Rico which currently faces so much economic distress is just awakening to the potential of sustainable use of forestry resources.
In September 2017, untold thousands of trees fell down, or broke, during Category 4 Hurricane Maria, blocking roads and damaging buildings and homes. The immediate challenge in Puerto Rico is to help in the relief of the impact of the hurricane, and create an industry from the resources that are currently lying on the ground rather than discard them as waste. The essence is to lower the cost of hurricane recovery, saving on equipment, transport and landfill costs, and to create an enterprise using this timber. This will result in the creation of jobs and demonstrate the value of this currently largely under utilized natural resource.
Thank you to the Earthwatch Institute for the volunteers who have helped us to gather data in our forest over almost two decades, and to Globalworks, and all the university and teen groups that have helped in all manner of activities to bring Las Casas to this moment in time. We salute you all.
Thank you to Energy Globe for this prestigious recognition of our work in forestry on the island of Puerto Rico!
3t and Andres have been invited to the 4 day award ceremony in Tehran, Iran in January 2018, which includes the Energy Globe World Award nomination and ceremony. Please help us to get there. Resources are truly stretched after Hurricane Maria!