HERPETOLOGICAL EXPEDITION JULY-AUGUST 2014
The steep and remote areas of Icaco and Hormiga Valleys of Las Casas de la Selva have never been surveyed for amphibians. Herpetologist Norman Greenhawk led a team of volunteers into the forest to search for target species of frogs in this vast area, to identify and gather information about amphibians to better assist with the future management of this area. The expedition started on 16th July, and continued to 8th August 2014. The team set up camp in the forest, prepared their own food, and faced some days of extremely challenging windy and rainy weather, including an interruption of the study by Tropical Storm Bertha! The team included college students from the continental US, Puerto Rico, an Earthwatch Teen Team, and Dr. Gabriela Agostini from Argentina. They and came back with a lot of data.
The target species that were confirmed to exist in the valleys were: IUCN Endangered Eleutherodactylus wightmanae (the Coqui Melodioso), IUCN Vulnerable Eleutherodactylus cooki (Coqui Guajon), and IUCN Critically endangered Eleutherodactylus richmondi (Coqui Caoba).
During the surveys, the team sampled for Chytridiomycosis, an infectious disease of amphibians, caused by the chytrid Batrachochytrium dendrobatidis, a non-hyphal zoosporic fungus, that is currently killing off amphibians around the world. GPS co-ordinates of appropriate information were taken to allow for mapping of the range of target species within the valley, and high quality photos of the frogs were taken to help show the myriad variation of colors and patterns within a single species.
The initial survey is over and the data is being compiled. Norman has met with personnel of the US Fish and Wildlife Service to help determine future monitoring and research. Once the results of the Chytrid sampling are delivered from the San Diego Zoo, a report will be written up and submitted to a peer-reviewed journal for publication. This survey will continue with a smaller team, as the mountain ridge that separates the two valleys needs to be accessed and sampled.
Norman expresses deep gratitude to team members Sarah Bryan, Jessica Rosado, Marla Gonzalez, Sara Gabel, Sara Zlotnik, Alessandra Belmonte, Sam Boas, Kaitlin Panzer, Lauren Billy, and co-team leader Gabi Agostini. Huge thanks also to Earthwatch Team members: Alana Salas-Yoshii, Josie Icaza, Samantha Riesberg, and their facilitator, Sushmita Sridhar.
Big, big thanks to the Mohammad bin Zayed Species Conservation Fund, CREOi, Roland Pesch and Kathy Rosskoph, without whom this survey would not have been able to be carried through.
Lastly, a special thanks to Thrity Vakil & Andrés Rúa for help with logistics, Leah Chevrier-Rappaport for extra volunteer help, and to Jan Zegarra of the US Fish & Wildlife Service for his encouragement, help with analyzing the results, and for consultation concerning future research possibilities.
Meet the team:
L-R Back: Sam Boas, Norman Greenhawk, Marla M. Barrios González, Lauren Billy, Alessandra Belmonte, Sara Gabel.
L-R Front: Leah Chevrier-Rappaport, Sarah Bryan, Jessica Rosado, Gabriela Agostini, Sara Zlotnik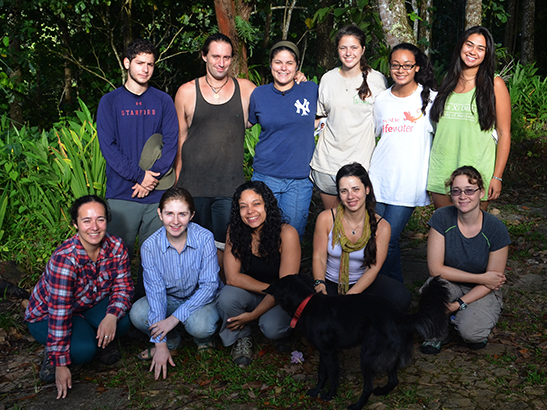 EARTHWATCH PARTICIPATION:
For several days of the survey, the team also comprised of three teenage Earthwatchers, Alana Salas-Yoshii, Josie Icaza, Samantha Riesberg, and their facilitator, Sushmita Sridhar.
Photo credits: Norman Greenhawk, 3t Vakil, Andrés Rúa, and Dr. Gabi Agostini (frog pix below).