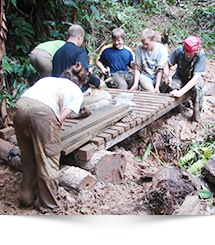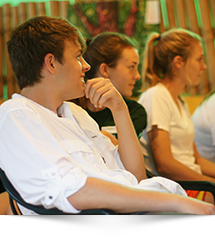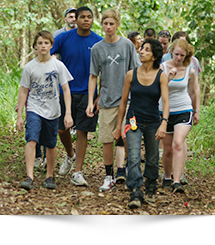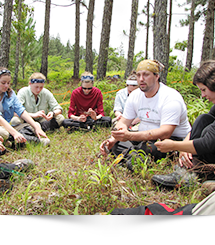 We call it VolunTREEadventure!!
Hurricane Maria devastated the project in 2017, and the arrival of volunteers to help with all manner of tasks was much appreciated. In 2020, earthquakes and Covid-19 took away our regular annual groups of volunteers and individual volunteers, and has left us really short-handed on multiple tasks. If you are ready, willing, and able, please get in touch, and explore the prospect of spending a few days or weeks with us.

For over thirty-five years, Las Casas de la Selva has hosted volunteers from all over the planet, involved in the total operations & management of Las Casas, carrying out particular tasks, or assisting us with scientific research projects.
Tropic Ventures Sustainable Forestry Project relies on the work of dedicated volunteers. Most all accomplishments here are the result of the vision and resourcefulness of volunteers and researchers. If you are ready for a life challenge, interested in your personal development, and feel that you have useful skills and proficiency, or perhaps would like to learn how to do something, hold a genuine love of the natural world, and want to live with other people to experience life in this biome, please contact us. We welcome you to participate in the project's total system as a volunteer. Contact us, we are very open. Please take the time to peruse the information of what to expect and what we expect from you.
Individuals of any age, over 18, interested in volunteering, are invited to apply. The cost is $25.00 per day which covers all your food and accommodation. Returning volunteers are most welcome.
Click here for GROUP VOLUNTEERING (School Groups, Alternative Spring Breaks, Community Groups, Adventure/Immersion Groups). We also comfortably host groups who 'do their own thing' with minimal interference. (Silent retreats, meditation, yoga, theater, breath-work, dance etc).
Travel arrangements, visas, health and travel insurance, etc., are the responsibility of the participant. Upon application you will be provided with full details.
Send an email with a brief summary of why you would like to volunteer and what you hope to get out of such an experience. Detail any skills that you have to offer. Include the names and contact details of two people from whom we can seek an opinion of your suitability for volunteer work.
Attach a Bio or CV to the email along with a recent photo to 3t
Please type: "Volunteer – your name" in the subject line.
We will get back to you within days. Thanks for taking the time, and we hope to see you here before long!
Click here for GROUP VOLUNTEERING