"

The Rainforest defends herself…by a beauty that makes us stop…take oath to protect her."

  Johnny Dolphin

What is Forest Stewardship?

In the context of forest management stewardship refers to caring for the land and resources, and ensuring that management considers the needs of future generations. It is also an expectation that care will be applied to sustain ecological system attributes and to make available short and long term benefits to an owner and society. Forest Stewardship is the responsible use of forest resources based on the application of an ecological understanding at the stand, forest and landscape levels, and based upon an ethical responsibility to the land and people.

TROPIC VENTURE'S Forest Stewardship goals:
Maintain as a natural rainforest reserve, approximately 675 acres, (273 hectares, 695 cuerdas) of secondary growth forest land at Tropic Ventures "Las Casas de la Selva " project site.
Implement sustainable management strategies for the use and conservation of the private forest resources, including timber, on the remaining 250 acres of the property.
Protect, conserve and enhance wildlife, water quality and quantity, improve air quality, and conserve energy.
Implement conservation and management actions that help mitigate or eliminate possible risk of wildfires and their impacts both inside and outside the forest boundaries, and maintain the health of the forest ecosystem.
Continue to promote education and scientific research projects on ecosystems and timber forest resources to promote rainforest conservation and sustainable forestry practices. This includes hosting local, Puerto Rican, international students and volunteer organizations, to give an opportunity for real-time, hands-on participation in sustainable forestry management.
Integrate and connect people on the conservation and management activities to work together on  environmental issues and possible effects of climate change.
Identify economic alternatives and viability of rainforest communities, and sustainable use of rainforest resources.
Develop, implement and evaluate methods to reduce degradation of the forest's water resources which help protect the downstream water reservoirs of the Patillas region. These include erosion control, ecological methods of sewage treatment and appropriate land use to minimize pollution of the forest's waterways.
Share the results of the work at Las Casas de la Selva with the local Puerto Rican and international community through conferences, public presentations, on-site ecological tours, through local and international media, and through publication of research results in scientific journals.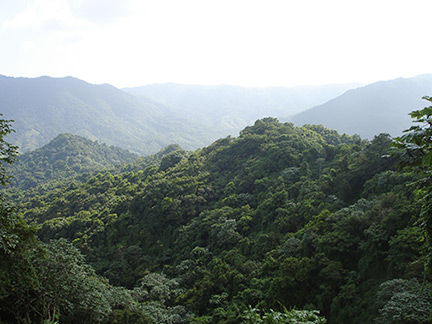 Forested mountains of Las Casas de la Selva (2012)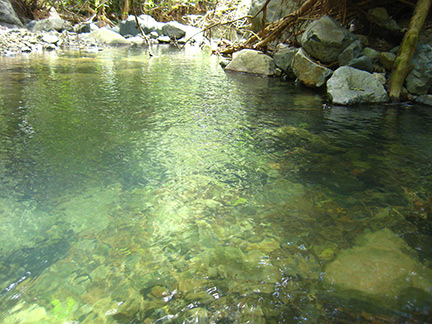 Mountain forest rivers of Las Casas de la Selva (2012)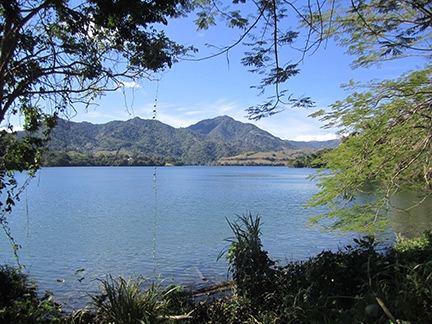 Las Casas de la Selva watersheds provide water for Lake Patillas (2012)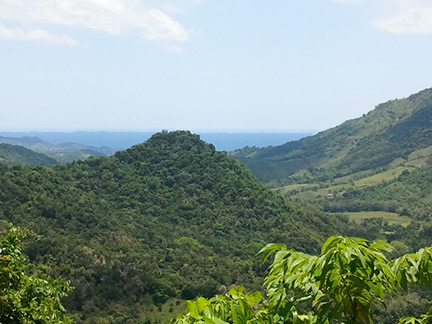 Water flows from the mountains to the mangroves and marine ecosystems (2012)

Management Objectives
1. Production zones: To develop and sustainably manage timber producing forest; traditional and non-traditional agro-forestry systems: shade coffee (traditional) and other, non-traditionals systems like combinations of trees, bushes and herbs having fruit, ornamental, medicinal and culinary qualities.
2. Wildlife habitat. To protect and conserve more than 675 acres (273 hectares, 695 cuerdas) in forest reserve that will assist the spreading and the flow of wildlife in these regions, including Carite State Forest.
3. Water quality: To conserve the present forest on this property for the protection of three important systems of permanent streams and rivers that flow into the Río Grande de Patillas, and are part of the watersheds that supply water to Lake Patillas providing drinking and irrigation water to the communities in this municipality.
4. Recreation: To develop authentic ecotourism and educational activities, while promoting recreation, rest, meditation and deep enjoyment of nature.
5. Other: Creating practical strategies for plantations and small diameter forest products, by developing additional economic options within sustainable contexts for both producers and artisans.
6. Threats or Harm Management Strategies : To identify, manage and reduce threats to forested ecosystems health to prevent or eliminate the risk of the following issues: Fire; Insect pests and diseases; Ecosystem fragmentation; Climate Change; Hurricanes/storms; Drought; Invasive plants and animals.
Poem extract top of page from 'In The Rainforest' (WILD, Poems Aphorisms & Short Stories, by Johnny Dolphin,  published 1992 by Synergetic Press)
That land is a community is the basic concept of ecology, but that land is to be loved and respected is an extension of ethics. Aldo Leopold