Thank you to all the Earthwatchers who fielded in our summer season. Through rain, mud, and slippery slopes, everyone made it over established comfort levels and discovered themselves anew at the end of each expedition. We are happy to have had Marta Edgar here as PI on the ongoing Bird Survey, and she worked with the first team. 3t continued on with tree data collection on the Liberation thinning study and also gathered, with team 2g, a complete monitoring of the endangered endemic tree species planted last year in a collaborative project with US Fish & Wildlife. Norman is carrying out a one month Herpetological survey in Icaco and Hormiga Valley and the teenagers on Team 3 along with their Earthwatch Facilitator, got to camp for 6 days and work on this study.
We really appreciate the level of enthusiasm brought to our project by volunteers, because without you, data would be hard to collect. We salute you all.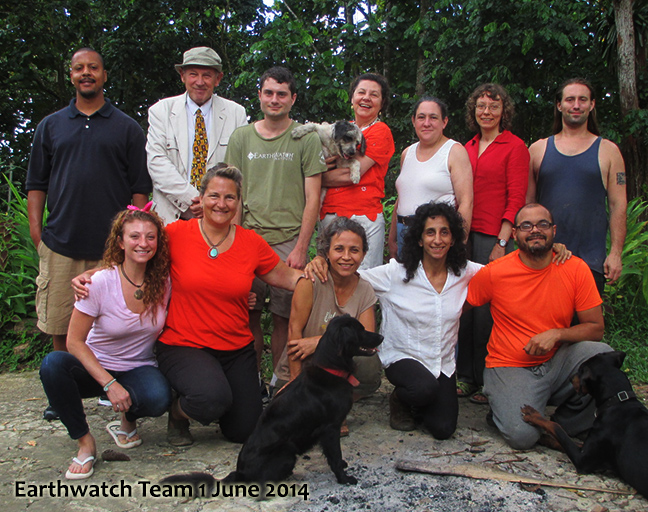 Back L-R: Khalil Brookins, Philip Sully, Michael Caslin, Lisa Oldham, Coralie Todd, Marta Edgar, Norman Greenhawk.
Front L-R: Vanessa Porcelli, Sonja Brown, Magha Garcia Medina, 3t Vakil, Andrés Rúa.

Back L-R: Norman Greenhawk, Christine Arnesen, Adrian Meza, Sarah Molina, Allison Tenzer, 3t Vakil, Bridget Fredrickson, Andrés Rúa.
Front L-R: Victoria Overbey, Melissa Guardado, Brittany Concannon, Cheyanne Tran, Magha Garcia Medina, Sandra Martin, Marisa Gonzalez.